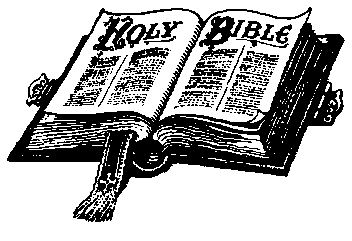 Scriptures for Meditation
---

---
Click on the text to read...
Isaiah 29:23-29

SCRIPTURE FOR MEDITATION
Isaiah 29:23-29
Give ear and hear my voice, Listen and hear my speech. Does the plowman keep plowing all day to sow? Does he keep turning his soil and breaking the clods? When he has leveled its surface, Does he not sow the black cummin And scatter the cummin, Plant the wheat in rows, The barley in the appointed place, And the spelt in its place? For He instructs him in right judgment, His God teaches him.
For the black cummin is not threshed with a threshing sledge, Nor is a cartwheel rolled over the cummin; But the black cummin is beaten out with a stick, And the cummin with a rod. Bread flour must be ground; Therefore he does not thresh it forever, Break it with his cartwheel, Or crush it with his horsemen. This also comes from the LORD of hosts, Who is wonderful in counsel and excellent in guidance.
---
Commentary by Pam Clark:

When Jesus talked about sowing seed, He spoke of the Word of God going into people's hearts. We today call that witnessing. There is a right and wrong way to witness to people, and not all people are the same. Strong personalities are often won by strong words, and the more subdued personalities are won by gentle words. To someone who is sad, a cheerful word may be in order, and for someone who is glad already, words of logic may be that which wins them.

Proverbs 22:6 says: "Train up a child in the way he should go, And when he is old he will not depart from it." The word "train" there implies a bending of the will, but not the breaking of it. In other words, God has put things in us that need to be developed while other tendencies need to be curbed. God wants us to give our all for Him, our energies, strengths and talents and this needs to be developed in our lives.

Every individual is different. There are many foods that a lot of people eat but it's very rare to find two people with identical tastes in food. The Bible says God gives wonderful wisdom and we can have that wisdom if we just ask Him for it.

There are some things in us that do not need to be crushed but just "bent." A plant will follow the sunlight and grow in that direction just as we should follow the Son's Light and do the same.

SCRIPTURE FOR MEDITATION
Nehemiah 7:1-2
Then it was, when the wall was built and I had hung the doors, when the gatekeepers, the singers, and the Levites had been appointed, that I gave the charge of Jerusalem to my brother Hanani, and Hananiah the leader of the citadel, for he was a faithful man and feared God more than many.
---
Commentary by Pam Clark:

I have often noticed, as I am sure many of you have, how often families are in ministry together. And you will also find it in the business world. I used to be jealous of such things.

My family was not that close, as far as being able to work together, we all tended to go our own directions. Growing up that way, it seemed normal. But when I sought the family of the Lord, I would often feel pain, feeling that somehow God had left me out and that I was an outsider. It seemed ministries were cliquish and I wasn't "in the clique."

But there was a call in me to do something for God. Even though other families were tight and and not available to me, still there was the yearning to please God. I used to sulk, but it didn't get me anywhere.

The more I sought God for ways to do things for Him, the more things opened up. It wasn't easy. I often felt very foolish for my ignorance. People who had been in ministry for generations "knew the ropes" and I didn't know anything and it showed. But I didn't give up.

God's Word had principles I could adhere to, and I found that often it would lift me up above some things I had been envious of in the past. Things that appeared to be so glorious really were not always so great after all in light of the whole counsel of God. Besides, I found that there are promises for the singles that come true!

As I obeyed God, He caused His favor to come to me. As I moved into leadership positions, I found that it means a lot to work with people you know and can count on. Suddenly, those "cliques" took on new meanings.

For great works to be done, it takes people who are in agreement. And true agreement carries commitment with it. Every great work has commitment to it. In the above passage, Nehemiah knew his brother Hanani. He knew how he operated and he trusted him. But Hananiah was not family, but was chosen because he was a trustworthy man in the Lord.

The wall [for protection] was built in his life and he had hung the doors [of entrance for the things of the Lord] and WHEN the gatekeepers, the singers, and the Levites had been appointed [the set ministries of Jesus], THEN he gave the charge of Jerusalem [the place of activities in the Lord].

He had integrity, which is a commitment to Godly virtues. It showed, and therefore, he was chosen. May you be chosen as well for the same reasons.

SCRIPTURE FOR MEDITATION
Matthew 8:8-10
The centurion answered and said, "Lord, I am not worthy that You should come under my roof. But only speak a word, and my servant will be healed. For I also am a man under authority, having soldiers under me. And I say to this one, 'Go,' and he goes; and to another, 'Come,' and he comes; and to my servant, 'Do this,' and he does it."
When Jesus heard it, He marveled, and said to those who followed, "Assuredly, I say to you, I have not found such great faith, not even in Israel!
---
Commentary by Pam Clark:

When we pray for more faith, we should consider this story. This man was commended for his great faith. He understood authority. What does that mean?

The Bible says that "The fear of the Lord is the beginning of wisdom." This man knew that in the sight of one in greater authority, that he was not worthy to have his own full mind. He didn't park his brain or give it away, but he understood the nature of the Master, and he showed respect for one who had authority in an area where he had need.

But this man did not spend his days in submissions only, but he took up his strengths and exercised them in proper manner, earning a place of respect so that he qualified where others would serve under him.

This pleased the Master greatly and his request was answered with the compliment we all want to hear: "Well done, thou good and faithful servant. Enter into the joy of your desires. I choose to answer your requests."

SCRIPTURE FOR MEDITATION
Joshua 24:16-24
"So the people answered and said: "Far be it from us that we should forsake the LORD to serve other gods; for the LORD our God is He who brought us and our fathers up out of the land of Egypt, from the house of bondage, who did those great signs in our sight, and preserved us in all the way that we went and among all the people through whom we passed. And the LORD drove out from before us all the people, including the Amorites who dwelt in the land. We also will serve the LORD, for He is our God."
But Joshua said to the people, "You cannot serve the LORD, for He is a holy God. He is a jealous God; He will not forgive your transgressions nor your sins. If you forsake the LORD and serve foreign gods, then He will turn and do you harm and consume you, after He has done you good."
And the people said to Joshua, "No, but we will serve the LORD!" So Joshua said to the people, "You are witnesses against yourselves that you have chosen the LORD for yourselves, to serve Him." And they said, "We are witnesses!"
"Now therefore," he said, "put away the foreign gods which are among you, and incline your heart to the LORD God of Israel." And the people said to Joshua, "The LORD our God we will serve, and His voice we will obey!"
---
Commentary by Pam Clark:

I love the way Joshua said, "You cannot serve the Lord!" I grew up in a Jewish neighborhood and believe me, I can hear him say it! He challenged the people.

People like a challenge. Joshua led the people into an act of commitment through this challenge. Sometimes we need an extended effort to drive a point home and remember to keep our commitments. How often have we pursued something because we were told that we couldn't do it?

This is great leadership on the part of Joshua. Joshua didn't just preach at them and define their personalities for them, but he gave them something to do and something to be a part of and a way to act it out.

---
Let us know if you like these meditations!
---


TO THE HOMEPAGE OF PAM CLARK PROPHETIC MINISTRIES